Homes for Sale in Canmore Alberta
Canmore AB Real Estate
Start your online search here for all houses for sale in Canmore AB including real estate listings, active properties and more. At any time you can register for a free account and save all your searches. Get notifications immediately when new listings hit the market. Our website is updated every 15 minutes so you'll never miss the perfect home when it lists.
It is hard to overstate the natural beauty and awe-inspiring appeal of Canmore, Alberta. Located west of Calgary and along the southeast border of Banff National Park, Canmore is home to a long list of trails, parks, and natural reserves, making it a popular vacation destination. It's also a lovely place to live and work, with an international airport, wonderful dining, and excellent schools all in the gorgeous setting that has drawn tourists for decades.
Read on below the listings to learn more about relocating to Canmore.
Browse all Local Communities
Relocating to Canmore
The most obvious way to spend your time in Canmore is outside. Banff National Park is hard to believe without seeing it with your own two eyes. It is the oldest national park, filled with gorgeous glaciers, mountain hiking, and coniferous forests.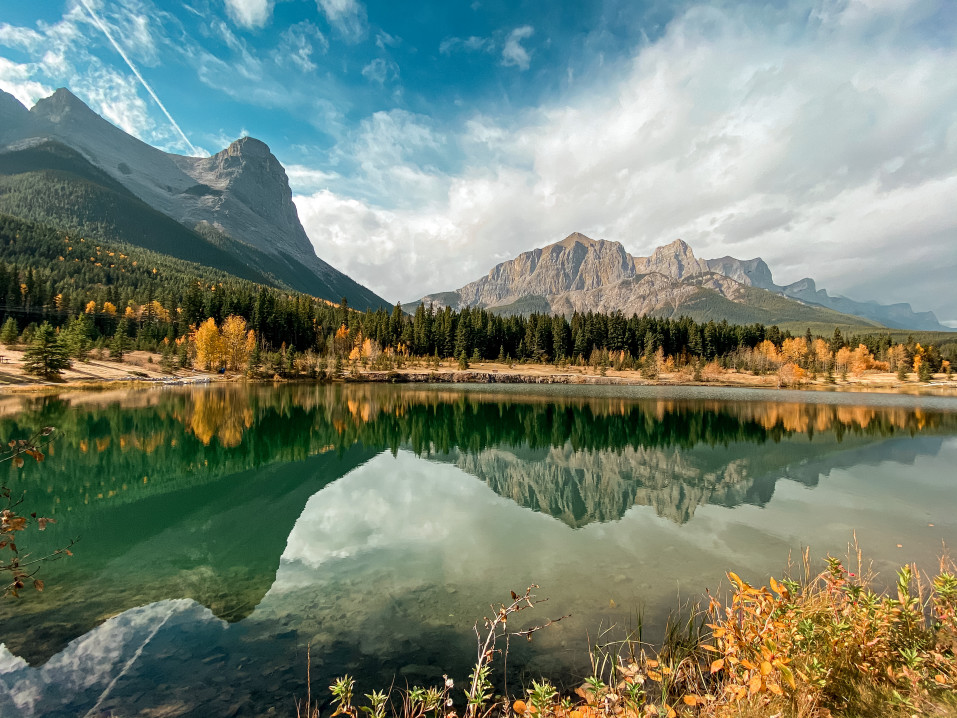 For a challenging mountainous hike, try Three Sisters or Ha Link Peak. If you like exploring caves, mountain biking, cross-country skiing, or just about any other outdoor activity, Canmore will have a beautiful place for you to do so.
For indoor fun, you can tour the Rocky Mountain Soap Company or Wild Life Distillery. Check out the Ammolite Factor to see a rare gemstone found in this area of Alberta, made from fossilized ammonites. And of course, there are plenty of delicious restaurants, whether you prefer a gourmet fine dining experience, a family-friendly night out, or something quick and casual.
Why People Love Canmore
Canmore provides the best of both worlds: natural beauty and the charm of a small town with the convenience and amenities of a big city. While Canmore is a popular tourist destination, the population itself is just about 14,000. Living in Canmore will provide you with all the comfort and community of a small town, but you'll have an international airport and world-class attractions right at your fingertips. The lifestyle of Canmore residents is idyllic and peaceful.
Canmore Schools
Public schools in Canmore are some of the very best in Alberta, with some unique perks. Canmore residents enjoy a tight-knit community in their schools, based on the limited size and small-town relationships of the town as a whole. Traditional public schools are available and are considered to be an excellent choice, and families can also opt to enroll in a Waldorf Academy for up to grade six or a catholic school from kindergarten to grade twelve. Students in Canmore can also utilize the Canadian Rockies Outdoor Learning Centre, with unique hands-on education opportunities in many fields of study.
Canmore Real Estate
The average price for a typical family home in Canmore is $1,100,000. Buyers should anticipate a highly competitive market, with little inventory in an exclusive and highly desirable community. It will be in your best interest to work with a real estate professional who is tenacious, experienced, and an excellent negotiator.
If you think you're ready to explore life in Canmore, Alberta, don't be afraid to take the plunge. Get in touch today and we'd love to help you see how you can make this dream a reality.
Contact Your Canmore Real Estate Agent